Attorneys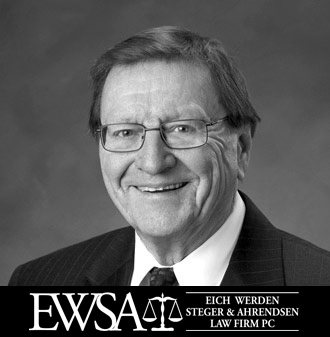 RONALD F. EICH
A native of Carroll County, having been born and raised on a farm in the Roselle area.
He attended Kuemper High School and upon graduation attended Creighton University in Omaha, Nebraska where he received a degree in Business Administration. His law school education was also at Creighton University and he graduated with a Juris Doctorate in 1970. At that time, he came back to Carroll and over the years has been associated with attorneys Ron Schechtman, Russ Wunschel, and Gary McMinimee. In the early stages of his career, he served as the Carroll County Attorney and was a Judicial Magistrate. Ron's areas of general practice include estate planning, income tax, probate, real estate, trusts, and agricultural law.
Ron and his wife, Jan, have four children and 14 grandchildren. He enjoys running, having participated in a number of marathons and half marathons, skiing, and antique tractors. He can be found during the summer months participating in community tractor rides with his 1944 John Deere. He also enjoys spending time at his cabin out at the Woods.
Legal Service and Professional Associations
Carroll County Attorney, 1972-1975
Carroll County Judicial Magistrate, 1975-1981
Business Law Instructor, Buena Vista Univ. (Denison Campus), 1993-1997
Carroll County Bar Association
Iowa Bar Association
American Bar Association
Community Involvement
Rotary Club
Kuemper Catholic Schools Foundation, Board Member
Knights of Columbus
Midwest Old Iron Club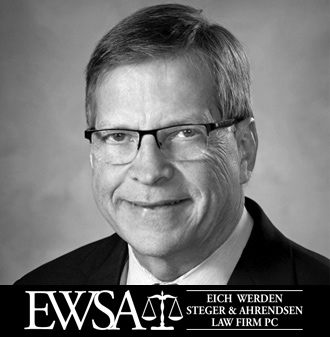 JOHN C. WERDEN
Born in Maquoketa, Iowa, graduated from Albia High School, received a Bachelor of Arts degree from Grinnell College and was awarded the Doctor of Jurisprudence degree from Drake University.
John is an experienced trial lawyer and mainly practices in life & estate planning, tax planning, trusts, probate, elder law, real estate and commercial transactions.
John C. Werden serves as the Carroll County Attorney, having been elected in 1998 and re-elected in 2002, 2006, 2010 2014 and 2018. The County Attorney prosecutes state criminal code violations occurring within Carroll County & serves as counsel to county officials. Consequently, the attorneys of Eich Werden Steger & Ahrendsen PC do not engage in criminal defense matters.
John has 3 children, Chase, Meredith and Madison and two grandchildren, Emmy and Ivy. He enjoys bike riding, hunting, marksmanship & boating with family and friends.
John Werden's Professional Activities:
Judicial Nominating Commission 2012-2016
Iowa State Bar Association
Jury Instruction Committee 2014-
Board of Governors 2020 –
National District Attorneys Association
Fight Crime Invest in Kids
National Leadership Council
Iowa County Attorneys Association
Past President
Prosecutorial Standards and Conduct Committee Chair 2012-2013
Legislative Committee 2011 -
Government Practice Committee 2010 -
Best Practices Committee 2017 -
Iowa County Attorneys Case Management Project
Iowa State Association of Counties
Admitted to practice before:
Iowa Supreme Court
United States District Court for the Northern District of Iowa
United States District Court for the Southern District of Iowa
United States Court of Appeals for the 8th Circuit
United States Tax Court
United States Supreme Court
Awards and Community Activities:
Drake University School of Law Student Award in Taxation 1983
Carroll Area Council for the Prevention of Child Abuse (Board of Directors 1988 – 1993)
Carroll Area United Way (Board of Directors 1989 – 1991)
State of Iowa Governor Volunteer Award 1998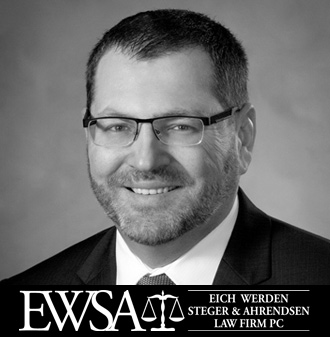 CURT S. STEGER
Born and raised in Earlville, Iowa. His wife Lyndi (Behrens) grew up in Manning, Iowa.
Curt received his undergraduate degree in history and fine arts from Briar Cliff University and his law degree from Drake Law School, where he graduated with honors. While in law school, he obtained certificates in Litigation and Dispute Resolution, Constitutional Law and Civil Rights. He was also an active member of the Drake Agricultural Law Journal, the Drake Client Counseling Moot Court team, and the Blackstone Inn of Court. He has been admitted to practice in Iowa, Nebraska, and South Dakota. He is a member of the Iowa State Bar Association, the Nebraska State Bar Association and the South Dakota State Bar Association. In 2010, Curt had an article published in the Drake Journal of Agricultural Law entitled "Note: Dodging the Tax Bullet: The Use of Foreign Limited Liability Companies by Retired Farmers to Limit State Inheritance Tax Liability for the Next Generation of Small Farmers." Curt's areas of practice include litigation, worker's compensation and general practice.
When not working, Curt and Lyndi spend their time with their four boys, Aiden, Reid, Jude and Miles with many family activities.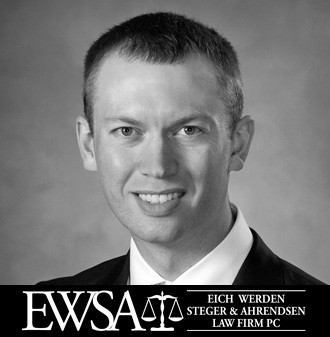 AARON AHRENDSEN
Aaron was born and raised in Manning, Iowa. Aaron received his undergraduate degree in finance from Grand View University with highest honors and his law degree from Drake University Law School with honors. In law school, Aaron served on the Drake Law Review and co-authored an article, titled Rectifying Renda: Amending The Iowa Administrative Procedure Act To Remove The Legal Fiction Of Legislative Delegation Of Interpretive Authority, published by the Drake Law Review. He was also a member of the Moot Court Board, was elected to serve as its treasurer, and was selected for the Blackstone Inn of Court. Aaron also served as a student attorney in the Drake University Legal Clinic and interned with an Iowa District Court Judge in Polk County. Before joining the firm, Aaron worked for a large Des Moines firm that practices in several areas of law. When not working, Aaron enjoys golfing and bowling.
Practice Areas, including but not limited to,
Litigation
Probate
Real Estate
Personal Injury
Wills and Trusts
Education
Grand View University (B.A., with highest honors, 2012)
Drake University Law School (J.D., with honors, 2015)
Bar Admissions
Recognition
Blackstone Inn of Court, 2014-2015
Moot Court Board, 2013-2015
Treasurer, 2014-2105
Student-Attorney, Drake Civil Clinic, 2014
Staff Member, Drake Law Review, 2013-2014
Professional Affiliations
Iowa State Bar Association
Legal Assistants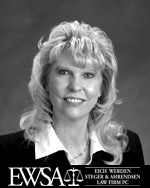 JO GRUNDMEIER
Jo started as a legal secretary 34 years ago a couple of weeks before her graduation from Kuemper High School. She has been with our firm for 12 years. She has extensive experience in many areas, however she is primarily responsible for preparing and filing corporate and limited liability company documents, drafting minutes and by-laws, as well as preparing annual reports and accountings for guardianships, conservatorships and trusts. During tax season, Jo also helps prepare tax returns and is responsible for keying in all the pertinent information for each tax client.
Jo's husband, Rob, is a Manning, Iowa graduate and works at Sunnybrook. They have two boys, Chris and Dan, both living in Carroll. Jo is also a certified Pilates instructor and a certified Sports Yoga instructor and enjoys teaching classes here in Carroll. She is a mentor in the Big Brothers/Big Sisters Program, and she also enjoys walking, weight training, Iowa State basketball, and reading.